Mt. Kanchendzogna - 8585 m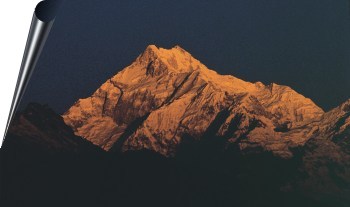 Photo Credit : Yap P.D. Tashi
The mighty Mt. Kanchendzogna, the third highest mountain in the world, looks divine with the first rays of the sun. It lifts spirits and reassures the Sikkimese people of its eternal blessings.
According to the Holy Scriptures, the Great Indian tantric teacher Guru Padmasambhava is said to have consecrated every place in Sikkim. The Great Guru is also supposed to have hid away many holy books and invaluable treasures in a number of caves and mountains for the use of posterity. He is also said to have brought the Sikkimese deliverance from a number of chief demons and spirits of Sikkim, whom He later converted to Buddhism and ordained them as the defenders of those hidden treasures. In return for their services he ordered the people to worship these deities every year. They were empowered to prevent un-natural calamities and war from taking place in Sikkim. The Great Guru prophesied that the observance of his orders would keep the land of Sikkim peaceful, where religion would flourish and harvest be bountiful. The five summits of Mt. Kanchendzogna is supposed to be holding five such treasures salt, precious stones and other minerals, religious scripts, medicines and grains. The highest peak is the Tiger, the other peaks are Lion, Elephant, Horse and the Garuda, a bird like the fabled "ROC".
| | |
| --- | --- |
| Kang-chhen-dso"-nga and his subordinate The Yab-bdud, or "BLACK FATHER DEVIL", the supreme commanders of Kanchendzogna are worshipped every year on the 15th day of the 7th month according to the Tibetan Calendar, which falls around the end of August. This festival also marks the signing of the blood brotherhood treaty between the Lepchas and the Bhutias .The local deities are invoked to witness this occasion. During the ceremony a small procession is taken out during this the masked dummy of the 'Yabdu' or the Deity of Sikkim is taken on a horse around the royal chapel, elders say that during the old days the horse would stagger as if it were carrying a great load. | Photo Credit : Rajesh Lakhotia |
The guardian deity is worshipped with much reverence and people of Sikkim old and young alike are of an opinion that no one should climb the mountain. The elders take offence to people wanting to climb the sacred mountain. The Shangri-La or the valley of happiness too is supposed to be somewhere around Kanchendzogna. Many holy men have made attempts to find this place. Two Lepcha hunters were supposed to have come across a place of eternal youth where one grain of rice could feed all the people.
Mt. Kanchendzogna
Height: 8585 m./ 28208 ft
Location: 88'7` E 27'42` N

First climbed in 1955, May 25 by G. Band & J. Brown (British expedition under Charles Evans)