Camp 3 - Dzongri : 4024 m
The sight of the mountains from this part is breathtaking. You are in the middle of an stadium and the mountains suround you as if they wanted to embrace you. The sight of these awsome magnificent mountains is enough to have one thinking of one's meek existence on earth.
Mt. Kanchendzonga - 8585 m,
Mt. Kabru - 7320 m,
Mt. Rothang - 6678 m,
Mt. Pandim - 6691 m,
Mt. Simvo - 6811 m,
Mt. Jupono - 5936 m,
Mt. Narshing - 5825 m,
Gocha Peak - 4940 m and a host of other peaks can be see for this beautiful bare place.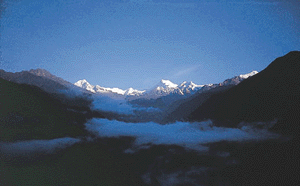 Photo Credit : Samdup W. Lachungpa